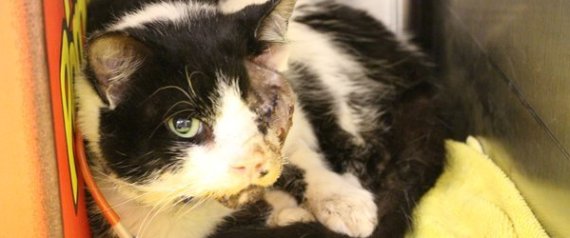 "And you think you're having a bad week."
Last month cat lovers and zombie enthusiasts alike were astounded to learn that a Polk County Florida cat was dead and buried for five days, only to come back to life and crawl out of its own grave. This caused a nationwide stir and quickly donned the name of "Zombie Cat" to the feline.
However, controversy quickly followed the "Zombie Cat" story as the veterinarians at the local Humane Society felt something suspicious was going on.
Soon after, a fight between the cat's owner and the humane society took place and a GoFundMe account was set up to raise money for the cat's vet bills.
The owner seemed very concerned and expressed a large amount of sympathy and simply wanted his cat back, but again, the staff at the humane society remained suspicious. Now it looks like their worst fears may have been confirmed.
After thoroughly examining the cat, they found dirt in every orifice of the feline which would suggest that the owner knowingly buried the cat alive, as a matter of fact, executive director of the Humane Society in Polk County Florida, Sherry Silk, referenced a YouTube video, posted by the neighbor of the cat's owner, clearly stating that he might not have been dead, because when she found him, as she put it, he was "moving and stuff."
Ellis Wayne Hutson, (Bart's owner) contends that the Humane Society, which announced last week that they did not intend to return the cat, is wrongfully attempting to hold onto his pet.
The fact is, is what does the Humane Society have gain by keeping this cat? Nothing. So clearly Hutson is not being 100% honest, he is lucky no charges are being pressed, but two good things came out of this story, one, the Humane Society stepped up for the cat, and two, we didn't have to call in Rick from The Walking Dead to handle the situation, cause let's face it, he's way too overdramatic about EVERYTHING, and probably smells like 6 month old hippo feces mixed with Goya beans. -EE