Where is he?
HISTORY
It's been over 16 years since former Metallica bass player, Jason Newsted, left the revolutionary rock group! As a matter of fact, his replacement, Robert Trujillo, recently became the longest standing bass player in the history of the hall of fame group (4 bass players total: Ron McGovney 82', Cliff Burton 82' - 86', Newsted 86' - 01, and Trujillo 01 - present).
In 1986, after the unfortunate death of Metallica's 2nd bass player, Cliff Burton. The group held an invite-only, closed door audition for around 20 bass players, in hopes of replacing Burton. After a lengthy session, the group ultimately chose Newsted.
It isn't even a question however that Newsted became the band's most prolific bass player and was around during the climatic pioneering heydays of the group. The "And Justice for All," "Master of Puppets," and "Black Album" days.
DEPARTURE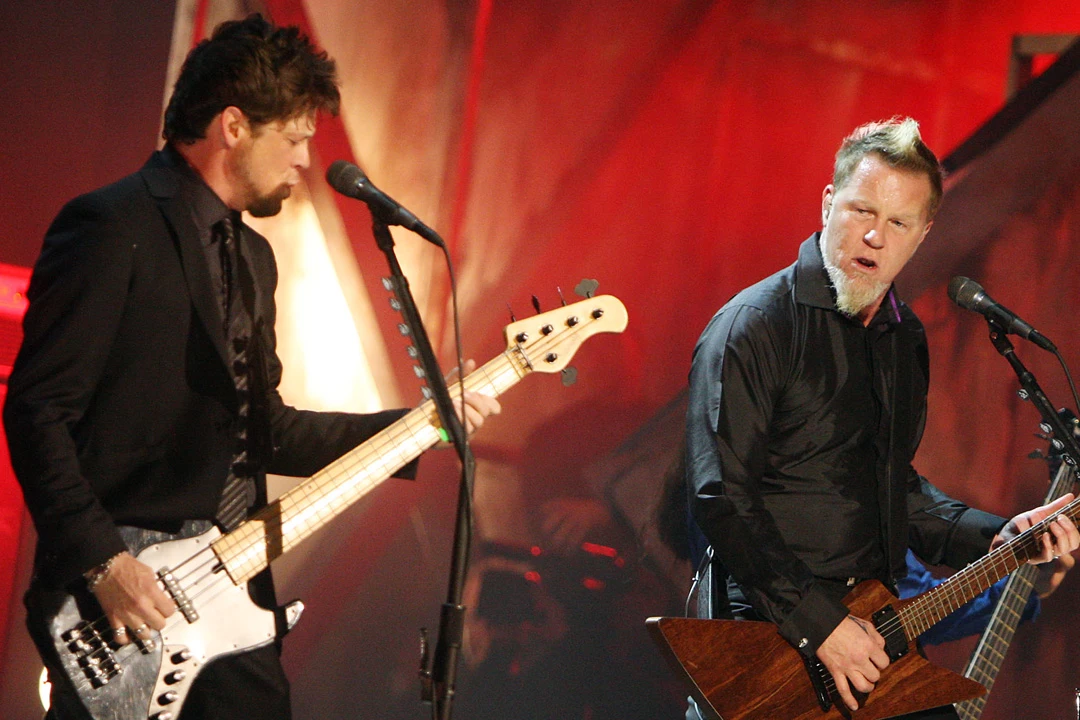 "you wanna leave boy?"
Jason Newsted's exit and reason for his exit were fairly cut and dry, or so we thought. During a meeting between the staff and performing members of the group in January 2001, Newsted proposed that the band should take a year-long hiatus, and he would use that time to focus on his side-project Echobrain, the other members of the group rejected Newsted's proposal and released him from Metallica on January 17th, 2001. He initially stated that his decision to leave was due to "private and personal reasons and because of physical damage he had done to himself over the years performing the music that he loves."
An interview with Rolling Stone in 2005 however, tells a much different story...Newsted stated that Metallica singer and leader of the group, James Hettfield, wanted Newsted gone in order to make a statement to the rest of the band that there would be NO side projects for any of the members. Newsted quickly cited Hettfield's participation in other musical ventures outside of Metallica, to which Hettfield regarded as "not the same," since he never put his name in the credits with any other project, nor did he ever ask for time off from Metallica to do so (Hettfield would later state that the emotional meltdown he experienced in 2001 was partially related to his frustration caused by Newsted's untimely departure).
In 2013, Jason Newsted sat down for an interview with Playboy magazine and once again told a different story than he relayed in the past. This time Newsted claimed that Metallica's management group, Q Prime, gave Newsted the go-ahead to promote his Echobrain project, and said that they (Q Prime) were very impressed with Newstead's singing and leadership abilities. Unfortunately, after Hettfield found out, Metallica's general manager contacted Newsted and told him "sorry, but we're not going to be able to help you with that Echobrain thing." Newsted left Metallica shortly thereafter.
POST-METALLICA NEWSTED
Newsted with Newsted in 2014
After leaving Metallica, Jason Newsted now had all the time in the world to pursue other musical ventures and opportunities.
It was only fitting that the former Metallica bass shredder's first project was the one that initially caused friction between Newsted and the rest of the group (mostly Hettfield), Echobrain.
Newsted's time in Echobrain was short-lived after the group failed to appeal to fans in their targeted genre. Newsted would later accept a more "behind the scenes" mentor-style role and eventually left the group towards the end of 2002. Echobrain would meet its demise in 2005 (they sucked).
After leaving Echobrain, Jason Newsted quickly found new life with the long-running moderately successful Canadian thrash metal band Voivod, it was at this time that Newsted began to grow bitter at his former band mates and made the following declaration....
Not a single member of Metallica responded, time would pass, and after almost five years, Jason Newsted left Voivod in 2008 after founding member, bassist Jean-Yves Theriault returned to the group.
Newsted joined a short-lived publicity stunt as a member of a house band for the reality program "Rock Star: Supernova" where he joined Motley Crue drummer Tommy Lee and Guns N' Roses guitarist Gilby Clarke. Vocalist Lukas Rossi would be go on the win the show and the "record contract," a tour and shitty album would later follow, Supernova quietly ended after that.
In 2009, the Rock 'n' Roll Hall of Fame announced they would be inducting Metallica into their fraternity of the greatest musical acts of all time, Metallica would invite Newsted to perform at their induction ceremony where he performed two songs with Metallica along side current bassist Robert Trujillo. In 2013, he performed with Metallica again for four nights in a row to celebrate the band's 30th anniversary at the Fillmore in San Francisco.
In 2012, Newsted would create a band he aptly titled "Newsted." He was the bassist and the lead vocals. Even though the band's debut album was well-received by fans and critics, Newsted shelved the project in 2014 for what he called "private and personal circumstances."
Since 2014, Newsted has mostly remained silent and out of the spotlight, but he recently resurfaced with a new acoustic project, Would and Steal.
So what's next for Newsted? Who knows, but regardless of what he does, he'll be forever associated with undoubtedly the greatest heavy metal rock band of all-time. -EE