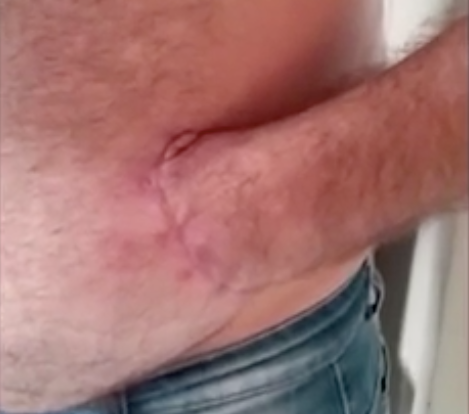 What you see above it not photo-shopped, that is a man's hand sewn into his stomach.
Sao Ludgero, Brazil -
In March of 2016, Carlos Mariotti, a machine operator, had an accident involving a large machine used to make plastic tableware.
The skin from Mariotti's hand was ripped off, making the bones and tendons exposed.
When Mariotti arrived at the hospital, multiple doctors looked at his hand and assumed that amputation was the only viable solution. However, Dr. Boris Brandao came up with a more productive answer. Simply insert the damaged hand into Mariotti's stomach to prevent it from infections. This also gave extra time to prepare for the necessary skin graft operation.
This is Carlos Mariotti today, and no, that is not a mitten.
42 days later, doctors were able to graft skin from Carlos Mariotti's left thigh, this made his hand look like a boxing glove. Mariotti has learned to adapt to everyday tasks with his new hand and hopes to have additional surgery to separate four of his fingers into two separate section. -EE