The un-retired and undefeated Floyd Mayweather will face two-weight Ultimate Fighting Championship world champion Connor McGregor August 26 in Las Vegas. The fight is expected to break every record for PPV buys and overall gross in the history of both sports.
The fight was negotiated by both sides for over a year, with each fighter demanding hundreds of millions of dollars for their participation, along with each combatant claiming to be the main draw.
Floyd Mayweather is regarded as quite possibly the greatest pound-for-pound boxer to ever step inside a ring. He is undefeated and possesses amazing defensive skills and speed.
Connor McGregor has put multiple world-class fighters away with his hands, including one of UFC's greatest fighters ever, Jose Aldo, in just under 15 seconds....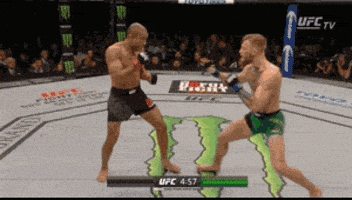 Damn, those people in the front row probably paid $5K or more for their ticket.


Good question...let's ask Las Vegas!!
Oddsmakers in Vegas wasted no time in calculating the opening line for the fight. Floyd Mayweather is the overwhelming favorite to win. Westgate Superbook puts him 1/11 (-1100) odds. For those of you who don't bet, that means if you wanted to put money on Money Mayweather you would have to bet $11 to win $1. McGregor has been placed at 7/1 (+700), that translates to winning $7, for every dollar you bet on Connor McGregor.
Connor McGregor is currently UFC's top draw, and knows how to self-promote. However, McGregor has NEVER faced anyone like Floyd Mayweather. quite possibly the best pound-for-pound boxer since Rocky Marciano.
If this was a fight in the octagon, the odds would surely be in McGregor's favor, but saying the best MMA fighter has a chance against the best boxer on Earth, in boxing match, is like saying Imran Tahir (the highest rated cricket bowler in the world), could pitch a better MLB game than MLB's best pitcher, Clayton Kershaw. Cricket and baseball have similarities, but are significantly different, just like a "boxing only" match, and mixed-martial arts fight.
Connor McGregor throws a barrage of impressive punches, but Floyd Mayweather has spent his entire life mastering the art of boxing defense. However, McGregor will likely bring a very unorthodox and possibly unpredictable style to Vegas on August 26, but just like the last super fight (Mayweather VS Pacquiao), expect a Money Mayweather victory.
PREDICTION: McGregor has a iron fist and the heart of a lion, but Mayweather has too many advantages, I just can't see how McGregor, who has no professional boxing fights under his belt, could defeat a world-class undefeated boxing champion. McGregor will simply be outclassed and unable to penetrate Mayweather's phenomenal defensive technique, eventually he'll slip and Mayweather will capitalize. MAYWEATHER IN 3 ROUNDS.