These two could very well end up on the same team, if the new NBA All-Star format has anything to say about it.
This upcoming NBA season, the All-Star game will be played under the bright lights of Los Angeles in the Staples Center. Along with this year's game comes a new format.
In the four major sports (MLB, NFL, NHL, NBA), the all-star game (or Pro Bowl in the NFL) has a become a laughable event. Players play at a soft level fearing injury in a "meaningless" game. This changed a few years ago in the MLB.
In 2003, after the 2002 MLB All-Star game ended in a fucking draw, Commissioner Bud Selig decided that it was time to give the game some real meaning, and by "real" meaning, Selig and MLB's governing committee decided to give home field advantage to the "league" that won the game. For example, if the American League wins the All-Star game and the Oakland Athletics make it to the World Series, they would have "home-field" advantage. The rule has since been changed back recently.
The NHL currently has a very complicated format. Each division (4 of them) put a team together and they play each other in a single elimination tournament with significant money on the line. For a more thorough description, click HERE.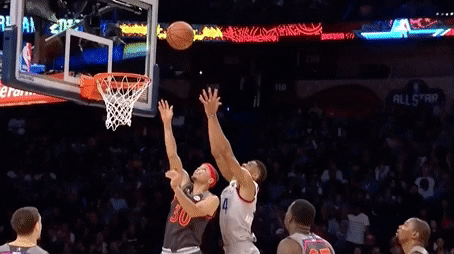 So how is the NBA changing their All-Star game? Pretty simple.
Each conference will select a team captain, the captain will be the player with the most fan votes from each conference.. From that point, each captain selects their team in a draft style platform. The captains will take turns selecting their squad from a pool of 26 players. 12 (six from each conference) voted-in by fans, players and the media, and 14 players selected by the NBA coaches.
The beauty of the new NBA All-Star format is that the captains can select any player from either conference that are on the list of eligible all-stars. Could Lebron and Durant play together, or perhaps John Wall and Steph Curry? Anything can happen.
The players are expected to take the game more serious as each player will be player for his own charity.
The league has not yet provided details as to how the draft itself will work, but the potential for crazy combination adds stack and stacks of intrigue. -EE